The entrepreMuse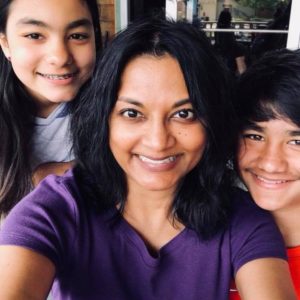 I (Aruni) am the mother to two amazing kids, an entrepreneurially minded gal, and business woman.  To see what I'm doing now, please check my LinkedIn profile.  I am also an amateur songwriter (Metaphor Mania on facebook), but I couldn't figure out how to professionally put that on my LinkedIn profile.
I began blogging back in May 2007 and although my posting frequency has decreased due to life's other obligations, I still enjoy writing from time to time.  Growing up (although I didn't realize it until after I graduated college), I had a feeling that I eventually wanted to start and/or be a part of a small business (my first real job was a paper route at the age of 13), and I used my time at MBA school to make my first attempt happen. I've learned a heck of a lot in the school of hard knocks and have so far lived to tell the tale. If the gods choose to continue to smile on me, maybe they will one day do more than drop a coca-cola bottle on my head and I'll win the business lottery.
I'm fascinated with entrepreneurship, entrepreneurially minded individuals and I started documenting that fascination in this blog and previously in a series of  articles on the topic of success that I co-wrote with a partner.
Why entrepreMusings?
In Greek mythology, the Muses are a sisterhood of goddesses or spirits, their number set at nine by Classical times, who embody the arts and inspire the creation process with their graces through remembered and improvised song and stage, writing, traditional music and dance. (source Wikipedia).
I believe that everyone has a Muse within and that entrepreneurs tend to be more aware (or shall I say less afraid) of their Muse.  I certainly scare myself on many occasions!  I define an entrepreneur as anyone who aims to create something that did not exist before and nurtures it to a level where people are positively affected.  Entrepreneurs come in all shapes and forms from female to male, young to old, parents to teachers, artists to scientists, singers to songwriters, employers to employees, etc.  There are so many factors that affect whether a person is perceived as successful or not, but the mere act of trying to make a difference is, to me, a big part of being an entrepreneur.
Our society often dismisses the entrepreneurial nature of being a parent.  I believe the most valuable thing we can contribute to our society are children who are able to positively contribute to the world.  When I talk to people about my entrepreneurial career, I say I'm on my umpteenth venture with the two most important being each of my kids.
So, here on this blog I want to start the process of shifting the stereotypical image (i.e., man of means, working 80+ hours a week, not spending time with family/friends, etc.) of a financially "successful" entrepreneur to:
a)  aims to be emotionally, spiritually, and financially rich by making the proverbial market place pie bigger
b)  works hours that are compatible with a healthy personal and family life
c)  man, woman, or child of any race, color, creed, religion, marital status, orientation, etc.
d)  not aiming just to make a quick buck but a lot of meaningful bucks that empower many people along the way 🙂
e)  uncompromising ethics and standards
Having founded a venture-backed, high-tech start-up during and after the dot com bubble and crash, I know the above definition is not easy to implement.  I have and I know I will continue to stumble along the way with my kids, personal life, and career aspirations, but I will keep on trying to shift the definition and reality by musing on this blog.
But I can't do it without your help!  Let me know what you are up to and I'd love to try to incorporate your stories into blog posts for others to read, get inspired and help us all make the shift!  You can contact me at aruni(at)austin(dot)rr(dot)com.   I will do my best to respond, but if I've fallen in a trap of too much multitasking, please know that I will make every attempt to read your email as long as it didn't end up in my spam folder.
---