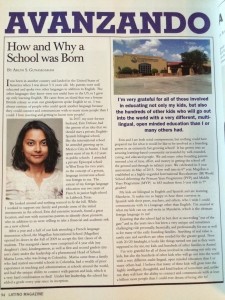 I was recently given the opportunity to write my story about the founding of The Magellan International School for Latino Magazine.  Here's the link to the article on our school site: How and Why a School was Born.  It's been an amazing experience to be involved in the ground floor of starting such a phenomenal school!
I have not been involved in the day to day activities or in many of the big achievements since it's founding because I chose to take more of a behind the scenes role.  I gave birth (and have the illustrative scars) to the kids who inspired it's creation, so I think that counts for something. 😀
I decided to take care of myself and our kids while my ex husband and others did much of the heavy lifting to get us where we are today.  The kids seem reasonably well adjusted despite the chaos, and they have benefited greatly from being able to attend MIS!  I guess we will know if they turned out alright if they are sane in their 30's.
It has been a while since I've posted.  I've been busy having a lot of fun as well as re-learning lessons that I should have learned the first time!  Lesson learning is tricky because each time the situation seems to have slightly different variables and different people involved so you unwittingly let your guard down thinking you should give the people and the new scenario the benefit of the doubt.  But then boom, you get a little blindsided. In hindsight it is much easier to spot the red herring. [insert red herring emoji]  However, the recovery time is faster, you see the signs earlier which means you don't put your guard down as much, your good friends become greater friends, the experience makes you stronger, there's a lot of red wine involved, and hopefully someone gets just a wee bit wiser.
Author:
Aruni
|
Filed under:
entrepreneur
,
entrepreneurship
,
FYI
,
parent stories
,
parenting
,
success story
|
Tags:
avanzando
,
latino magazine
,
magellan international school
,
magellan school
,
red herring
|
2 Comments »
---